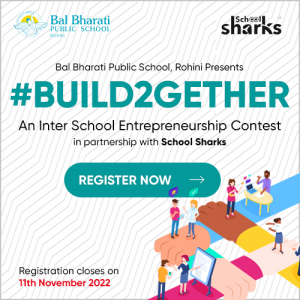 CLICK TO VIEW #BUILD2GETHER Webinar 1 : *Introduction to Entrepreneurship* with Khyati Khandelwal (Co-Founder, 2wheelr.com) and Ziyaa Boghani (Co-Founder & CEO, iCreate.xyz)
TEACHERS DAY 2020 SPECIAL PRESENTED BY STUDENTS OF MIDDLE DEPARTMENT : VIEW 
Accept challenges so that you may feel the exhilaration of Victory.

We are extremely thankful to all the students for active participation in Lift the Lock activities. And, today onwards, for next 8 days, you will get to see the names of those who excelled with their entries for the event. Congratulations to all those whose names feature here and to those whose don't. After all, taking up challenge is a step forward.

Regards




Prefectorial Board


1. On 14.7.2020 Prefectorial Board announces Result of the Event 'Game-a-Thon'
2. On 15.7.2020 Prefectorial Board announces Result of the Event 'PhotoBonanza' : WINNING ENTRIES
3. On 16.7.2020 Prefectorial Board announces Result of the Event 'Meme Challenge'  :

 

FIRST ENTRY

, 

SECOND ENTRY

, 

THIRD ENTRY
4. On 17.7.2020 Prefectorial Board announces Result of the Event 'ShutterMania'  :

 
5. On 18.7.2020 Prefectorial Board announces Result of Event Category I, Result of Event Category II 'Innovation & Invention'  : 
6. On 20.7.2020 Prefectorial Board announces Result of Event 'Stand up Comedy' 
7. On 21.7.2020 Prefectorial Board announces Result of Event 'App-O-Code' 
8. On 22.7.2020 Prefectorial Board announces Result of Event 'PodVision': 
Congratulations Winners
BBPS Rohini has implemented Project CACA in the Primary Department in last two sessions.


Valuing our partnership, the team of Project CACA has shared this pdf of handbook by Food Safety and Standards Authority, Government of India.
Description: This e-handbook highlights safe food practices to be followed diligently and tips on health and nutrition for consumers. It has been reviewed and vetted by various experts in food safety and nutrition. We are forwarding you the same. Hope you will find it useful.
Members of Wordsmiths Club penned down stories that have been compiled together in an E- Book titled Five Quarantales.
The stories explore the theme of being Homebound.
Hope you like the literary initiative of the budding writers.
1. The remaining Board examinations ( AISSCE- Class XII- 2019-20 ) would be conducted  in the school itself in  instead of examination centre already allotted. Thus students will be required to report to Bal Bharati Public School Rohini, Sector-14 on the day of examination.
2. In case a student of class XII (2019-20) has shifted from Delhi and it is not possible for him/her to appear for remaining class XII  Board examinations from the school,  the parent and student should get in touch with the class teacher to apply for change of examination centre. You may also write to school authorities using  official  email id of school -  
bbpsrh@balbharati.org
 . The eligibility conditions, important dates and other details are  mentioned in the attached CBSE circular dated 2 June 2020. You  must carefully go through the attached circular before communicating with the class teacher or school. The class teacher can guide you about the method of submitting request to our school . Also attached is the CBSE FAQ notification dated           2 June 2020.  The last date for submitting a formal application to school is 
9 June 2020
.
3. Request once submitted for change of centre cannot be withdrawn.
4.The request made by parent/student shall be submitted to CBSE by the school.
5.The final  approval for change of centre shall be given  by CBSE.
We have always held to the hope, the belief, the conviction that there is a better life, a better world, beyond the horizon.'
- Franklin D. Roosevelt
In a world affected by Corona, the hope for a healthy tomorrow is what unites us in our prayers. Together, we strive to spread the cheer and involve our minds in the activities of the intellect to keep pessimism at bay. Creative Relections on Corona: the e-magazine is the school's zealous effort to create music out of chaos and to let the contributors dance to the renditions they create. It is also an ingenious reflection of the school's commitment to fathom all hurdles and rise up mighty and equipped. Even while staying at home for the protection of all, we are all connected and in unanimity have fashioned this piece of technological and innovative talent.
Happy Reading !
Geeta Gangwani
Principal
CREATIVE REFLECTION ON CORONA - AN E MAGAZINE
Saying anything about the pandemic would be a repetition of a thought or a piece read somewhere. However, the journey that we all took together from pre pandemic and lockdown times till today, precisely the 60th day is the one filled with wonder and hope. Clueless and anxious, we took our baby steps and looking back now, we all marvel at how far we have come. At this juncture, I have nothing but a great deal of admiration and respect for the farsightedness of esteemed members of CES who had initiated the digitization of Bal Bharati Schools much before the world had woken to the need. And, when the calamity hit us, it became our Noah's Ark, the symbol of faith and hope. Also, the constant support and encouragement that we have received from the Parent community inspires us to to explore all possibilities. Our enewsletter, which is compilation of our initiatives and your feedbacks, is validation of all that strong partnership is capable of achieving.
It is my pleasure to share with you our interactions with technology and our meaningful outcomes.
Regards
GEETA GANGWANI
Principal